TRANSFORM THE WAY YOU LIVE OUTDOORS
With gardens increasingly becoming an extension of the home, The Hestia Heat & Grill Collection is a great way to get outside more often, come rain or shine. Our unique products produce minimal smoke, are economical to use, and are a safe and effective way to live and entertain outdoors.
The Heat & Grill Collection
Click image below to view detailed product information
TURNING OUTDOOR HEATING INSIDE OUT 
We have taken everything we know about indoor heating, outdoors. The Hestia Heat & Grill Collection will transform the way you live and extend your enjoyment of your outdoor space.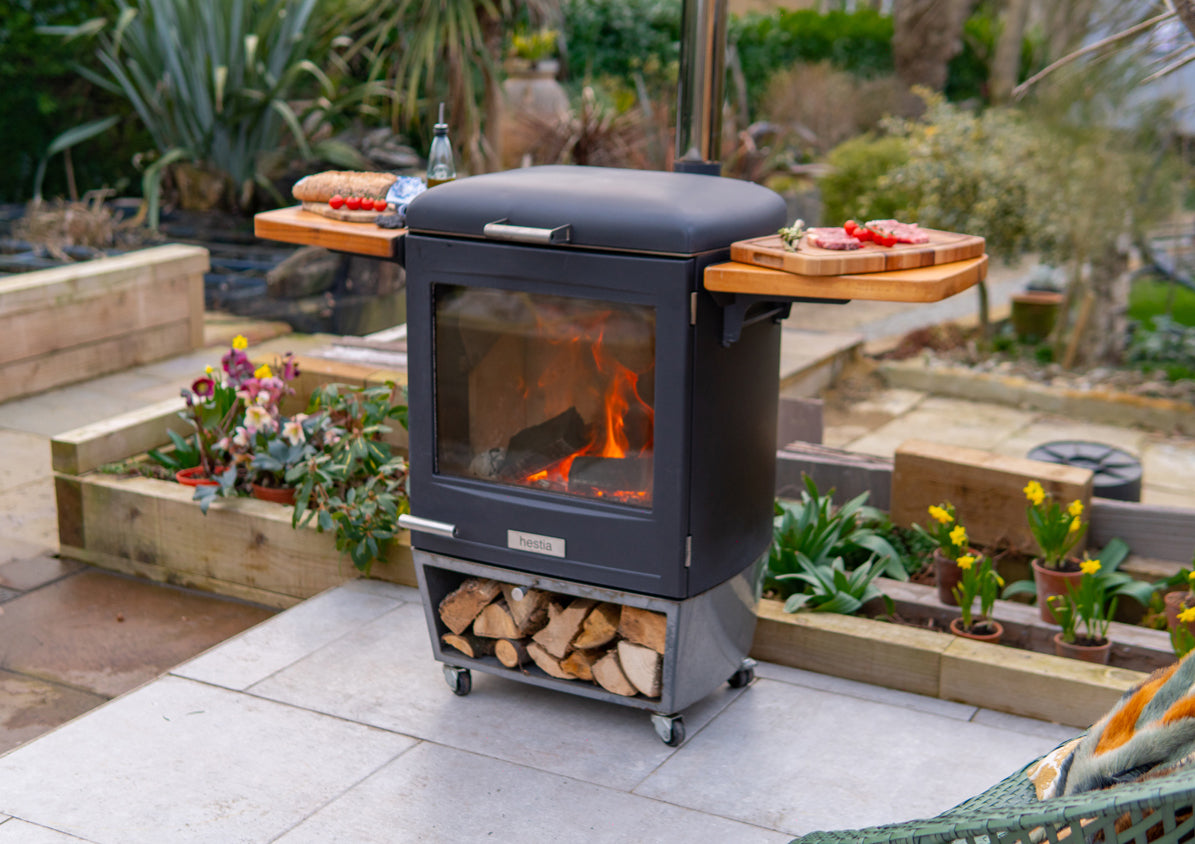 VERSATILE USAGE
Introducing the Hestia Heat & Grill series of barbecue heaters, the pioneers in seamlessly integrating an effective outdoor heater with a culinary appliance. Employing cutting-edge technology typically reserved for indoor wood-burning stoves, this represents a truly unparalleled approach to outdoor cooking and heating, elevating your outdoor lifestyle. The exceptional temperature management facilitates an array of cooking techniques, from gentle slow-cooking to intense high-heat stir-frying, traditional barbecue grilling, and pizza baking.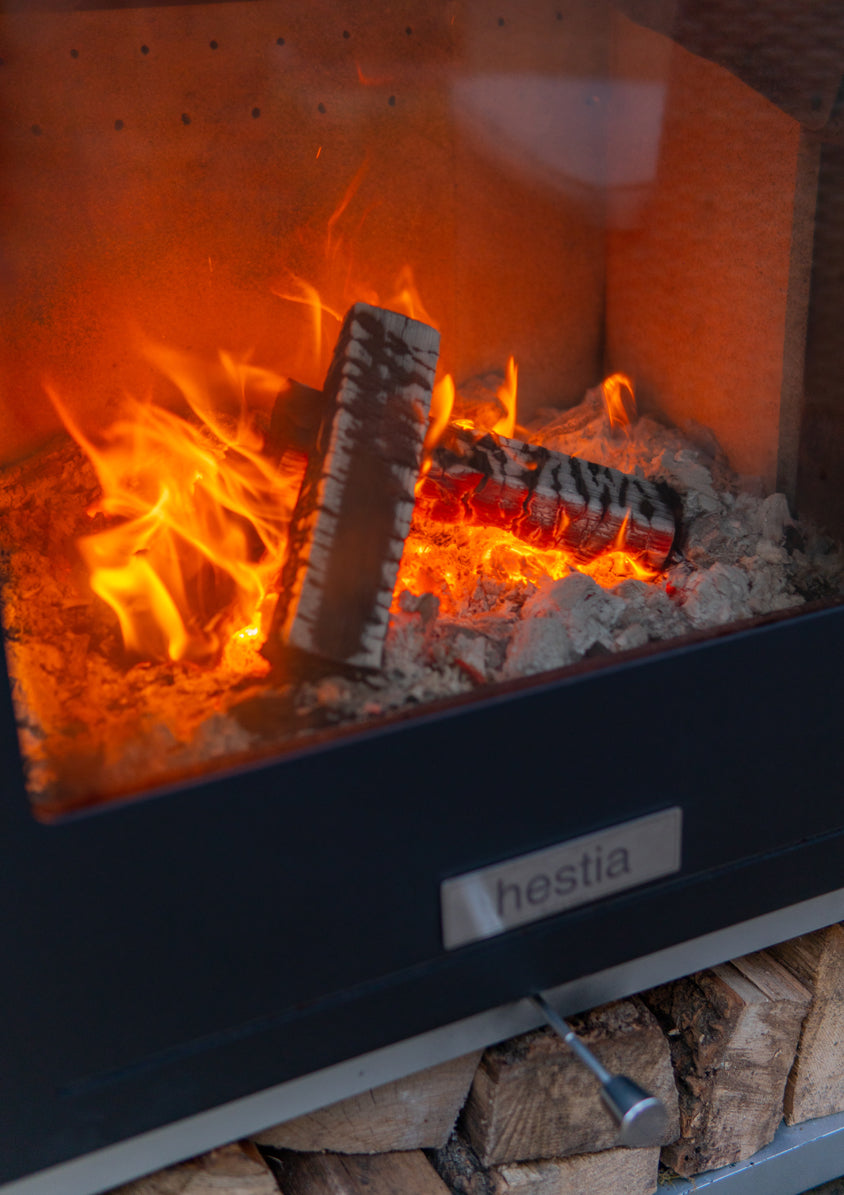 EFFICIENT
Heat is transferred from a closed chamber, allowing the burn rate and output to be managed using a straightforward single-control mechanism. Every appliance in the lineup comes equipped with an airflow lever, enabling convenient adjustment of temperature for both cooking and comfort, as well as enhanced fuel efficiency.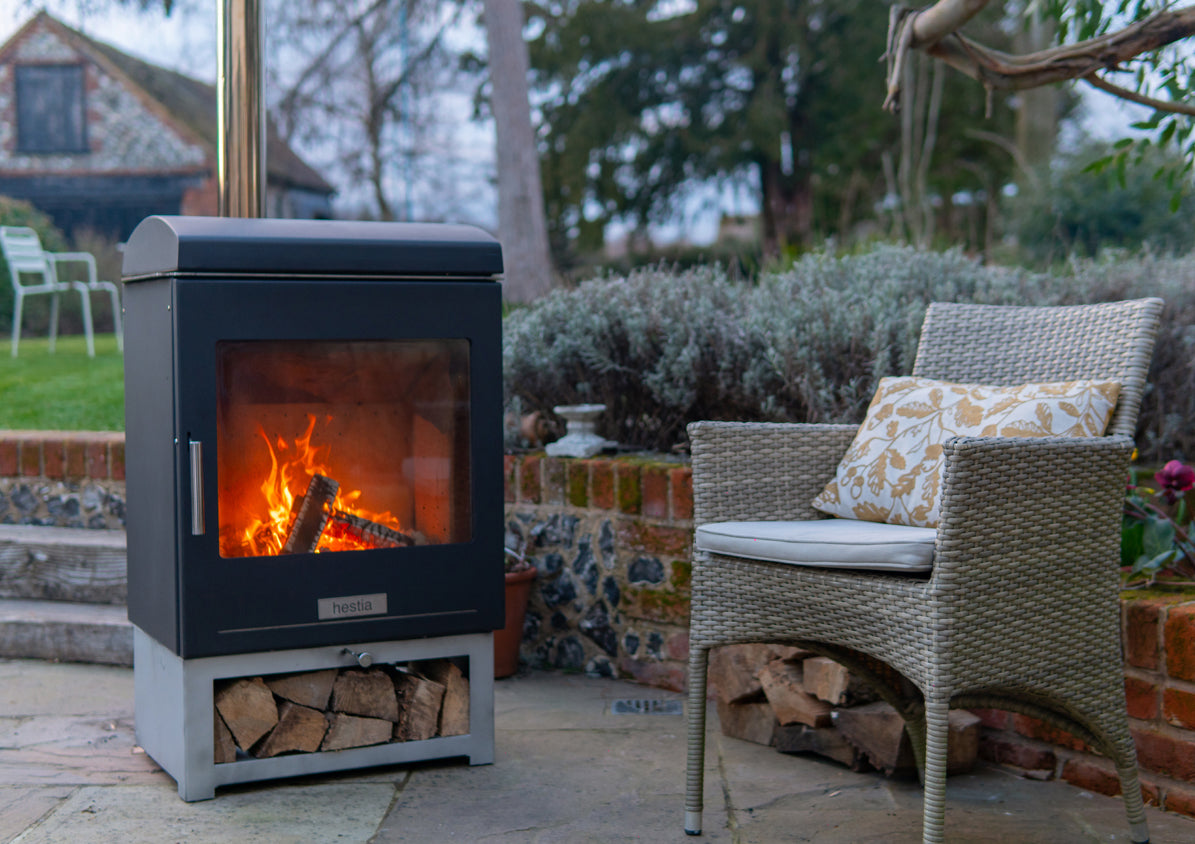 ECOLOGICAL
Utilising identical technology to our indoor wood-burning stoves, the Hestia Heat & Grill Collection ensures a clean burn, minimising both environmental impact and user exposure. Efficient wood-burning emits less environmental damage than gas patio heaters that release substantial amounts of carbon dioxide, exacerbating climate change.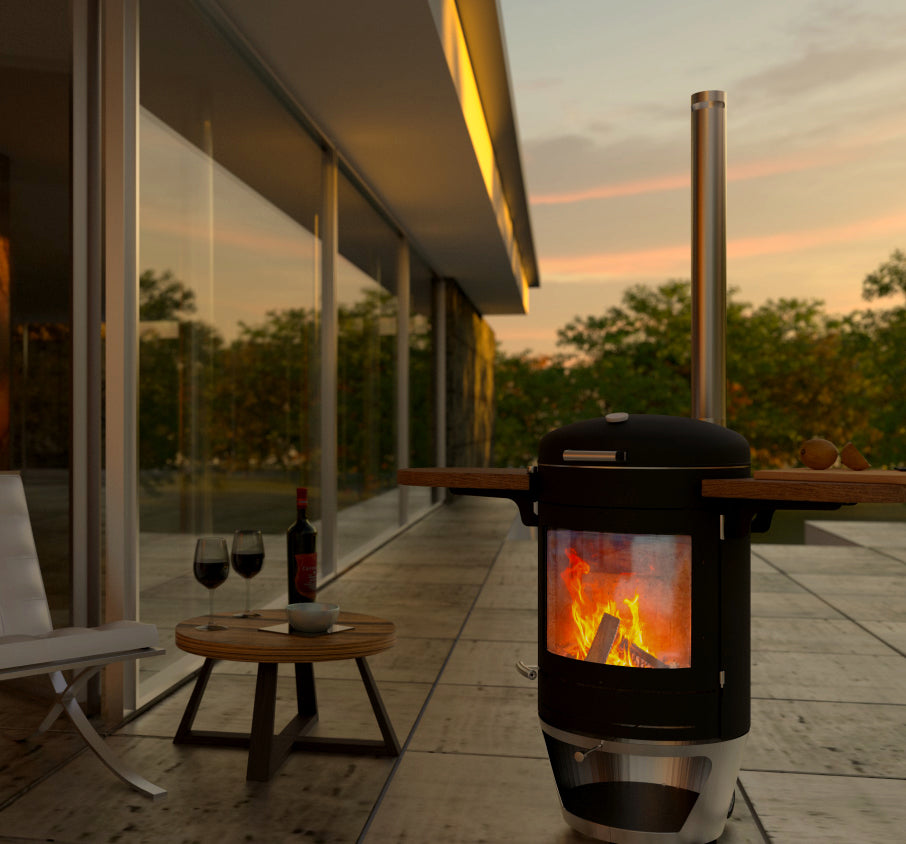 AMBIENCE
In contrast to various outdoor heaters and especially fire pits, The Hestia Heat & Grill Collection affords a substantial yet shielded view of the fire. This not only cultivates an incredibly atmospheric ambience but also diminishes the necessity to relocate in response to shifting winds. All emissions are directed up the flue, sparing everyone and everything from being enveloped in smoke clouds – a groundbreaking feature for a wood-fueled outdoor heater. This constitutes a secure method of relishing an outdoor fire, with the advanced technology ensuring that the glass remains clear and the flames remain captivatingly visible.
PATENTED BAFFLE

Each dual-function outdoor barbecue and heater in The Hestia Heat & Grill Collection incorporates our patented rotaing baffle for your comfort when cooking, and which quickly diverts heat up to the grill for easily controllable temperature adjustment.

PATENTED ROTATING GRILL

The rotatable grill gives added depth to your grill when roasting larger joints or cuts of meat. It can then be easily turned again for regular barbecue grilling.
THE BEST OF BOTH WORLDS
Environmentally safe heating combined with a great cooking experience.
CLEAN HEAT

Drawn from our indoor Stove expertise 

• Single lever air control 

• Fully sealed chamber 

• Minimal smoke emissions 

• Log Store base 

QUALITY COOKING EXPERIENCE

Perfect for cooking meat, veg, pizza and more...

• Large grill size

• Adjustable heat control

• Fully insulated lid reduces heat loss 

• Self-cleaning